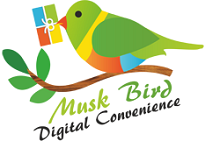 Muskbird.com – Privacy Policy
Last Updated on September 24, 2016
Welcome to the Muskbird.com website. This website is owned and operated by Code Potato Corporation Inc. registered under the federal laws of Canada whose registered office is in Vaughan, Ontario.
Privacy Policy
Muskbird.com is committed to respecting the personal privacy of our website visitors. The following statement summarizes the privacy practices of our website, informing visitors of why and how we collect personal information online and how it uses this information.
Scope of this Policy
Muskbird.com (interchangeably referred as "Muskbird", "we", "us" or "our") operates a number of websites (including this website) (collectively, the "Sites") to which this Privacy Policy applies
Website privacy statement
Muskbird.com has created this privacy statement in order to demonstrate our firm commitment to privacy. It also confirms your acknowledgement and consent to following purposes for which Muskbird.com may use and disclose the information that we collect through this website.
What is personal information?
Personal information is any information that can be used to identify a specific individual, and includes such information as a name, a home address, home telephone number and e-mail address.
Information We Collect
Personal Information
Muskbird.com collects personal information provided by you when you register for an account with us, provide your ratings or comments, When you make a purchase for any product or services, when you subscribe to our newsletter or marketing promotions or when you upload your personal messages or images if you chose to customize your order.
The personal information we collect may include Name, Address, email address, your home or mobile phone numbers and a similar set of information for your recipient if you have indicated to dedicate your gift order to someone else.
By using our customized greetings option, if you intend to send your gift order to someone else, you agree that it is your responsibility to obtain that individual's consent. Muskbird.com is not responsible for any damages or claims otherwise resulting from your use of our site to dedicate your gift order to someone else.
Non Personal Information (Automatic information collected)
Your IP (Internet protocol) address, a number automatically assigned to your computer when you visit the website.
Your Internet Service Provider (ISP).
Your type of operating system (Windows, Macintosh etc).
Your Web browser (Chrome, Safari, Internet Explorer etc.).
Your Geo location and Geographic data
This information may be used by Muskbird as an administrative tool for identifying system problems and monitoring network traffic. Muskbird.com does not attempt to link this information with identity of the individual visiting our website, except when necessary to protect our service, site, visitors, or others. Your IP address may be used to help gather anonymous demographic and profile information. We may use this data to tailor our visitor's experience at our site without personally identifying the visitor, showing them content that we think they might be interested in, and displaying the content according to their preferences. We may also use this data to learn more about site visitors and refine our marketing plans.
Payment Information

Although we do not permanently store your payment information on our servers such as credit card data, we use the provided payment information to verify payments and conduct necessary checks to safeguard against fraudulent orders or activities. Such data storage or information exchange with our payment processors or fraud detection technology partner organizations are conducted using secured encrypted mechanism. By placing the order on our website, you acknowledge and agree to allow us to conduct necessary verification and fraud detection checks in order to process your orders. Muskbird.com is not liable for any loss, damages or expenses that may incur as a result of any breach or event of information loss with either your personal, non personal, payment or other information.
Fraud Detection and Order Processing

Muskbird.com is highly committed to preventing online fraud and fraudulent activities. We will perform fraud detection and verification checks as part of all order processing. We have many anti-fraud safeguards in place and will pursue prosecution for all fraudulent orders. We may also report to government authorities on such fraudulent activities and orders
 Use of Analytical Tools
Muskbird.com utilizes Google Analytics tools to understand the usage pattern and related data when you visit our website.
Google Analytics is a web analysis service provided by Google. Google utilizes the data collected to track and examine the use of Muskbird.com to prepare reports on its activities and share them with other Google services.
Google Analytics collects information such as how often users visit this site, what pages they visit when they do so, and what other sites they used prior to coming to this site. We use the information we get from Google Analytics only to improve this site. We do not combine the information collected through the use of Google Analytics with personally identifiable information. Although Google Analytics plants a permanent cookie on your web browser to identify you as a unique user the next time you visit this site, the cookie cannot be used by anyone but Google. Google's ability to use and share information collected by Google Analytics about your visits to this site is restricted by the Google Analytics Terms of Use (as amended for government websites) and the Google Privacy Policy. You can prevent Google Analytics from recognizing you on return visits to this site by disabling cookies on your browser. You can find more information on Google's privacy policy by visiting their website at www.google.com
Use of Social Media
Muskbird.com uses facebook, Google Plus and Twitter to offer you a better experience with login and account registration to our website. In addition, you may also use these social media sites to provide comment and feedback related to your experience at using our website.
Certain information you post or provide through Muskbird.com for public posting, such as your name, profile, comments, collections and reviews, may be shared with other users and posted on publicly available portions of Muskbird.com, including without limitation, social media applications and other public sites. Please keep in mind that if you choose to disclose Personal Information when posting comments or other information or content through Muskbird.com, this information may become publicly available and may be collected and used by others. Please also be aware that if you choose to share or tweet deals or your purchases, they will become publicly available on the Facebook, Google Plus and Twitter Websites. It is up to you to make sure you are comfortable with the information you choose to provide us and the information you choose to publish.
You may choose to log in or access Muskbird using the Facebook, Twitter or Google. By doing this, you are authorizing that third party platform to send us certain information from your account with them, and you authorize us to collect, store and use in accordance with this Privacy Policy any and all information available to us through the third party platform
Use of Cookies
Our site uses cookies to keep track of user sessions, to deliver content specific to your interests and for other purposes such as keeping track of user navigation. You can instruct your browser to refuse all cookies or to indicate when a cookie is being sent. However, if you do not accept cookies, you may not be able to use some portions of our Site.
Contact Forms
Our site's "contact us" form requires users to give us contact information (name, email, and postal address, etc.). Contact information from the registration form is used to get in touch with the candidate when required.
If you provide personal information to us via unencrypted e-mail, you should be aware of the inherent risks of interception over which we have no control.
How Long We Keep Information
We reserve the right to retain all information provided for as long as the information is needed.
Site Monitoring
For site security purposes our site employs software programs to monitor network traffic. Anyone using this site consents to the monitoring of their use by system or security personnel.
Security
The security of your Personal Information is highly important to us. We continuously strive and work hard to put all feasible measures to protect your data and provide you with a safe shopping experience. Please do note that no method of transmission over the Internet, or method of electronic storage, is 100% secure. While we strive to use commercially acceptable means to protect your Personal Information, we cannot guarantee its absolute security.
Muskbird.com employs reasonable administrative and technical measures to ensure the security of personal information.
Contacting the Web Site
If you have any questions about this privacy statement or the practices of this site, you can contact: [email protected]
Save
Save