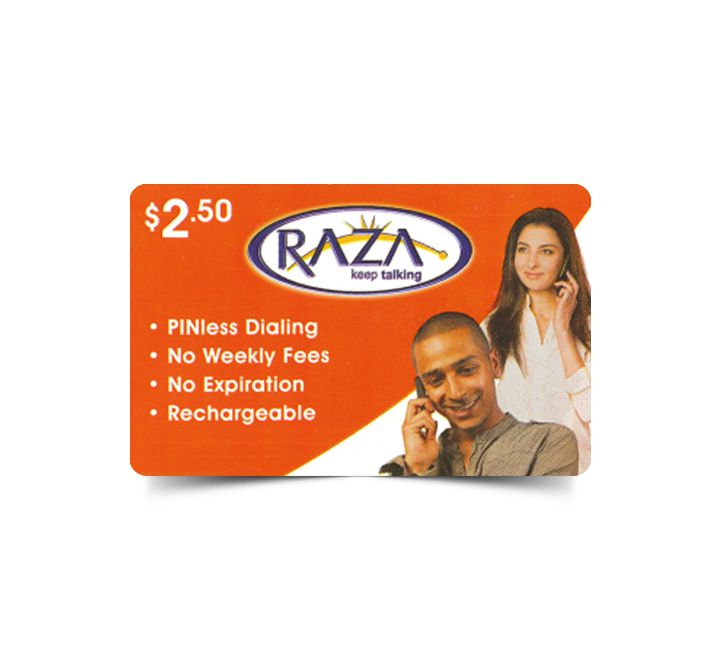 Roll over image to zoom in and Click to open expanded view
RAZA.COM CALLING CARD
Like to save on long distance rates? Then look no further! Raza.com offers one of the best rates for long distance phone calls to most popular destinations.
Some of the key features that this prepaid calling card offers:
PINLESS DIALING
NO WEEKLY FEES
NO EXPIRATION
RECHARGEABLE
You will recieve your PIN number in an email when you order the card from Muskbird.com
A copy of the PIN is also available within your secured Muskbird.com account information under recent order section
RAZA.COM CALLING INSTRUCTIONS
1. Dial access telephone number as shown on the Access Numbers tab
2. Follow voice instructions, enter PIN
3. Dial your destination number:
– Canada, U.S. and Caribbean calls: 1 + area code + telephone number
– For international calls: 011 + country code + city code + telephone number
Press # # to place another call
Customer Service - Call 1-866-874-5870
RAZA.COM PINLESS SET UP
1. Dial the access number
2. Enter your PIN number
3. Press #1 to Set up. Press #2 to remove
RAZA.COM RECHARGING INSTRUCTIONS

1. Dial the access number & Press #3
2. Enter your PIN number
You may want to call Raza.com's customer service number at 1-866-874-5870 for getting any additionl help or if having issues with access numbers, recharging or using the card.
| | | | | | |
| --- | --- | --- | --- | --- | --- |
| BARRIE | 705-881-1786 | LONDON | 226-289-2376 | TORONTO | 416-477-0205 |
| BRANTFORD | 226-227-1924 | MONTREAL | 514-447-0611 | VANCOUVER | 778-785-9774 |
| CALGARY | 403-774-1754 | OSHAWA | 905-448-2075 | VICTORIA | 289-955-1708 |
| EDMONTON | 780-628-6712 | OTTAWA-HULL | 613-366-0598 | VICTORIA | 250-483-1142 |
| GUELPH | 519-341-1038 | QUEBEC CITY | 418-948-1914 | WHITBY | 289-638-1805 |
| HALIFAX | 902-482-5779 | SOUTH PICKERING | 289-631-1803 | WINDSOR | 226-946-1019 |
| HAMILTON | 289-639-2500 | ST. CATHERINES | 905-228-2255 | WINDSOR | 519-968-1054 |
| KITCHENER-WATERLOO | 519-804-1728 | TORONTO | 647-722-0739 | WINNIPEG | 204-272-5083 |
| TOLL FREE ACCESS | 1-800-901-1150 | CUSTOMER SERVICE | 1-866-874-5870 | | |