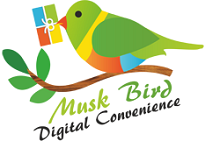 Muskbird.com – Terms & Conditions
Last Updated on July 29, 2021
Welcome to the Muskbird.com website. This website is own and operated by Code Potato Corporation Inc. registered under the federal laws of Canada whose registered office is in Vaughan, Ontario.
PLEASE REVIEW THESE TERMS AND CONDITIONS CAREFULLY BEFORE USING THIS WEBSITE, as they govern both your use of Muskbird.com (the "Site" or "Website") as well as all sales of products and services offered on this site
Please note that accessing, browsing, and using this Site in any manner constitutes your unconditional agreement to follow and be bound by these terms and conditions (collectively, the "Terms and Conditions"). Each time you access and use this Website, you are deemed to have understood and agreed to all the applicable law and site terms contained herein.
For the purposes of these Terms and Conditions, "this Website" means all the web pages related to the Muskbird.com site excluding any links to third-party sites.
IF YOU DO NOT HAVE THE AUTHORITY TO AGREE TO OR ACCEPT THESE TERMS AND CONDITIONS, YOU MAY NOT USE THIS WEBSITE.
MODIFICATIONS TO TERMS OF USE
Muskbird.com reserves the right to change, alter, replace or otherwise modify these Terms of Use at any time. It is your responsibility to check this page from time to time for updates.
If the Site Terms are changed, we will post the new terms and conditions and include the date that they were last updated. Any changes or modifications will be effective upon posting of the Site Terms as revised and your use of the Site following the updated posting will constitute your acceptance of the revised Site Terms and Conditions.
1. USE OF THE SITE
You may use the Muskbird.com Website only if you are a resident of Canada, have reached the age of majority where you live and you can form legally binding contracts under applicable law. Use of the Sites is governed by the provincial and federal laws of Canada.  If you access the Sites from outside Canada, you do so at your own risk and are responsible for compliance with the laws of your jurisdiction. Muskbird.com reserves the right to request proof of identification and age (for example, proof of your ability to buy products or services on this Website). Muskbird.com may ship products only to addresses in Canada.
All intellectual property rights in the content and the Website are owned by Muskbird.com or its affiliates (Code Potato Corporation Inc., "We" or "us") or others who have permitted us to display content owned by them.
You may download, copy and print selected portions of the Contents and other downloadable materials displayed on this Site for your personal, non-commercial use only, and provided that you maintain all copyright and other notices contained on the Site or in the Contents. Except when the express written authorization of Muskbird.com is granted, you may not copy, transmit, distribute, display, perform, reproduce, publish, transfer, frame, or create derivative works of any of the web pages and information (including any portion of them) which is obtained from this Internet Site. Muskbird.com reserves complete title and full intellectual property rights in any material that you may copy electronically or print from this Internet Site.
If you wish to provide a hypertext or other link to this Website, please e-mail us with details of:
the URL(s) of the web page(s) from which you are proposing to link to this Website
the URL(s) of the web page(s) on this Website to which you are proposing to link
We will consider your request. It is our decision as to whether we agree to your request and we do not have to do so.
You indemnify Muskbird.com against all possible damages or claims otherwise resulting from your use of this Website including your submission of any materials through this Website and your use of forums and your provision of any links to this Website.
2. PASSWORDS AND ACCOUNT REGISTRATION
By registering for an account on the Muskbird.com website or through any of our Services, you represent and warrant that you (1) are the age of majority in your jurisdiction (typically age 18) or, (2) are over the age of 13 and have the express permission of a legal guardian to obtain an account and to use Services in connection with the account. Services offered to registered users are provided subject to these Master Terms and any Additional Terms specified on this Website.
Registration: You agree to (1) only provide accurate and current information about yourself (though the use of an alias or nickname in lieu of your legal name is encouraged), (2) maintain the security of your passwords and identification, (3) promptly update the email address listed in connection with your account to keep it accurate so that we can contact you, and (4) be fully responsible for all uses of your account and all activities that occur under your account. You must not set up an account on behalf of another individual or entity unless you are authorized to do so. Muskbird.com is not under any obligation to verify the actual identity or authority of any user of a password and login name.
Termination: Muskbird.com reserves the right to modify, cancel or suspend your account at any time for any reason or no reason at all without any notice or liability to you or any other person
Account Security: You agree to notify Muskbird.com immediately of any unauthorized use of your account or any other breach of security. We will not be liable for any loss, damages, liability, expenses, or attorneys' fees that you may incur as a result of the breach of your password or account or due to someone else using your account, either with or without your knowledge. You agree that you are responsible for all activities that occur on your account.
Unauthorized account use: You may not use anyone else's account at any time.
Record Retention of Your Account: Muskbird.com has no obligation to retain a record of your Account or any data or information that you may have stored for your convenience by means of your Account or the Services.
 3. SITE CONTENTS
You acknowledge that Muskbird.com does not make any representations or warranties about the material, data, and information, such as data files, text, computer software, code, music, audio files or other sounds, photographs, videos, or other images (collectively, the "Content") which you may have access to as part of, or through your use of, the Website. Under no circumstances is Muskbird.com liable in any way for any Content, including, but not limited to: any infringing Content, any errors or omissions in Content, or for any loss or damage of any kind incurred as a result of the use of any Content posted, transmitted, linked from, or otherwise accessible through or made available via the Services.
 4. COPYRIGHTS AND TRADEMARKS
This Website contains materials, including text, photographs, videos, and other images and sound, which are protected by copyright and/or other intellectual property rights.
Unless otherwise noted, all site contents, copyright, and other intellectual property rights in these materials are either owned by Muskbird.com or have been licensed to it by the owner(s) of those rights so that they may be used as part of this Website.
You may not use these trademarks in any form without the written consent of the trademark owner.
Access to this Site does not confer and shall not be considered as conferring upon anyone any license under any of Muskbird.com or any third party's intellectual property rights.
The "Muskbird.com" names and logos and all related product and service names, design marks, and slogans are the trademarks or service marks of Code Potato Corporation, Inc. All other marks are the property of their respective owners and organizations that may or may not be affiliated with, connected to, or sponsored by "Muskbird.com".
No trade-mark or service mark license is granted in connection with the materials contained on this Site.
The Site and the Contents are intended solely for personal, non-commercial use. Subject to your strict compliance with these Terms and Conditions, You may download or copy the Contents displayed on the Site for your personal use only. No right, title, or interest in any downloaded Content is transferred to you as a result of any such downloading or copying. You may not reproduce (except as noted above), publish, transmit, distribute, display, modify, create derivative works from, sell or exploit in any way any of the Contents or the Sites.
 5. CONTENTS SUPPLIED BY YOU
(User images, text, comments, ratings, reviews, and other submissions)
Your responsibility: You agree that by uploading or creating your content on Muskbird.com such as images, text, personalized greeting messages, ratings, reviews, and comments, you will not violate any right of any third party, including copyright, trademark, privacy, or other personal or proprietary rights. You further agree that your comments will not contain libelous or otherwise unlawful, abusive, or obscene material, or contain any computer virus or other malware that could in any way affect the operation of the Site. You may not use a false e-mail address, pretend to be someone other than yourself, or otherwise mislead Muskbird.com, its affiliates, or other third parties as to the origin of any comments. You are solely responsible for any comments you make and their accuracy. Muskbird.com and its affiliates take no responsibility and assume no liability for any comments posted by you or any third party.
Muskbird.com will not have any obligation to hold in confidence any ideas, ratings, questions, reviews, comments, suggestions, or other content (collectively, "User Content") that you submit or post to the Site or otherwise provide to us.
By sharing, submitting, and uploading any User Content, you grant Muskbird.com a worldwide, perpetual, irrevocable, non-exclusive, royalty-free, sub-licensable, and transferable license to use, copy, distribute, display, publish, perform, sell, lease, transmit, adapt, translate, modify, reverse-engineer, disassemble and create derivative works from your User Content in any legal manner for the benefit of Muskbird.com.
You irrevocably waive and agree not to assert any rights that you have to prevent us from exploiting the rights granted as noted above. You also grant us the right to use and display the name that you submit with any User Content in connection with such User Content.
Muskbird.com may, but is not obligated to, review User Content and may delete or remove Your Content (without notice) from any of the Services in its sole discretion. We have the right to remove or edit any User Content for any reason or no reason at all.
 6. PROHIBITED CONDUCT
Use of the Muskbird.com Website or Services for any illegal purpose, or any other purpose not expressly permitted in these Terms, is strictly prohibited.  Without limitation, you agree not to engage in any of the following activities:
a)  Violating laws and rights:
You may not (a) use any Service for any illegal purpose or in violation of any local, provincial, state, national, or international laws, (b) violate or encourage others to violate any right of or obligation to a third party, including by infringing, misappropriating, or violating intellectual property, confidentiality, or privacy rights.
b)  Solicitation:
You may not use the Services or any information provided through the Services for the transmission of advertising or promotional materials, including junk mail, spam, chain letters, pyramid schemes, or any other form of unsolicited or unwelcome solicitation.
c)  Disruption:
You may not use the Services in any manner that could disable, overburden, damage, or impair the Services, or interfere with any other party's use and enjoyment of the Services; including by (a) uploading or otherwise disseminating any virus, adware, spyware, worm or other malicious code, or (b) interfering with or disrupting
any network, equipment, or server connected to or used to provide any of the Services, or violating any regulation, policy, or procedure of any network, equipment, or server.
d)  Harming others:
You may not post or transmit Content on or through the Services that is harmful, offensive, obscene, abusive, invasive of privacy, defamatory, hateful or otherwise discriminatory, false or misleading, or incites an illegal act;
You may not intimidate or harass another through the Services; and, You may not post or transmit any personally identifiable information about persons under 13 years of age on or through the Services.
7. IMPERSONATION OR UNAUTHORIZED ACCESS
You may not impersonate another person or entity, or misrepresent your affiliation with a person or entity when using the Services;
You may not use or attempt to use another's account or personal information; and,
You may not attempt to gain unauthorized access to the Services, or the computer systems or networks connected to the Services, through hacking password mining, or any other means.
In addition, you agree not to:
Reproduce, distribute, display, create derivative works of or transmit the Content (as noted above).
Use the Site or Services commercially (for example, as part of a service bureau), for benchmarking, or to compile information for a product or service.
Modify or translate any part of the Services or Site.
Reverse engineer, decompile, create derivative works of, modify, disrupt, tamper with or disassemble the technology used to provide the Services and/or Site, or otherwise attempt to obtain source code.
Attempt to bypass, modify or defeat any of the security features of the Site.
Disclose the sensitive personal information of others.
Send spam or bulk unsolicited messages.
Remove or alter any copyright, trademark, or other proprietary notice contained on the Site.
Attempt to obtain any materials or information not intentionally made available through the Site by any means.
Collect, manually or through an automatic process, information about or of other users or the Site.
Use any Marks (as noted above) or other Content for advertising, promotions, or other commercial purposes.
Frame, inline link, or similarly display the Site or any portion of the Site.
Assist or encourage any third party in engaging in any activity restricted by these Terms.
Muskbird.com reserves the right but has no obligation, to monitor your use of the Site and Services for compliance with these Terms.
 8. TERMS OF SALE OF PRODUCTS AND SERVICES
These Purchase Terms ("Terms") apply to your purchase of products and services from Muskbird.com ("Website") and its affiliates ("Seller") as well as by third party vendors and/or service providers of Seller.
When you purchase products or services (For example, Gift Cards, Calling Cards, Tickets, or e-Vouchers) via the Muskbird.com website, you will be required to click the "I Agree with Muskbird.com's Terms and Conditions" check box to complete the order. By clicking the "I Agree with Muskbird.com's Terms and Conditions" check box or by using and accessing our website to purchase our products or services, you are accepting all the terms and conditions as mentioned in this document plus other terms and conditions as mentioned in the "Shipping and Returns Policy" page on this Website.
Product Descriptions and Look and Feel: The images and descriptions of the products on our website are for general purpose information only and not indicative of the actual product that will arrive in your order. When you order a gift card, event ticket, or any product from our website, the actual product that you will receive, may have a different look and feel, image, or colors than what may be shown on our website. Gift card providers and brands frequently change the card logos, images, and look and feel. As such, we cannot guarantee that you will receive the same look and feel for your ordered gift cards or event tickets. We provide a 100% guarantee that you will receive a valid and authentic brand product when you order from our website.
Customization quality and look and feel for custom greeting cards: If you choose to create a custom greeting card using our website, the actual print quality and look and feel may slightly differ from what you see on the website using the "preview" or "crop" functionality.
You agree that such product look-and-feel variations can occur when you order from our website and accept such variations when you order and receive your product delivery. You indemnify Muskbird.com against all possible damages or claims otherwise resulting from such product variations.
9. DISCLAIMER OF WARRANTIES
TO THE FULLEST EXTENT PERMITTED BY APPLICABLE LAW, MUSKBIRD.COM OFFERS THE SERVICES (INCLUDING ALL CONTENT AVAILABLE ON OR THROUGH THE SERVICES) AS-IS AND MAKES NO REPRESENTATIONS OR WARRANTIES OF ANY KIND CONCERNING THE SERVICES, EXPRESS, IMPLIED, STATUTORY, OR OTHERWISE, INCLUDING WITHOUT LIMITATION, WARRANTIES OF TITLE, MERCHANTABILITY, FITNESS FOR A PARTICULAR PURPOSE, OR NON-INFRINGEMENT. MUSKBIRD.COM DOES NOT WARRANT THAT THE FUNCTIONS OF THE SERVICES WILL BE UNINTERRUPTED OR ERROR-FREE, THAT CONTENT MADE AVAILABLE ON OR THROUGH THE SERVICES WILL BE ERROR-FREE, THAT DEFECTS WILL BE CORRECTED, OR THAT ANY SERVERS USED BY MUSKBIRD.COM ARE FREE OF VIRUSES OR OTHER HARMFUL COMPONENTS. MUSKBIRD.COM DOES NOT WARRANT OR MAKE ANY REPRESENTATION REGARDING THE USE OF THE CONTENT AVAILABLE THROUGH THE SERVICES IN TERMS OF AMUSKBIRD.COMURACY, RELIABILITY, OR OTHERWISE.
10. LIMITATION OF LIABILITY
TO THE FULLEST EXTENT PERMITTED BY APPLICABLE LAW, IN NO EVENT WILL MUSKBIRD.COM BE LIABLE TO YOU ON ANY LEGAL THEORY FOR ANY INCIDENTAL, DIRECT, INDIRECT, PUNITIVE, ACTUAL, CONSEQUENTIAL, SPECIAL, EXEMPLARY, OR OTHER DAMAGES, INCLUDING WITHOUT LIMITATION, LOSS OF REVENUE OR INCOME, LOST PROFITS, PAIN, AND SUFFERING, EMOTIONAL DISTRESS, COST OF SUBSTITUTE GOODS OR SERVICES, OR SIMILAR DAMAGES SUFFERED OR INCURRED BY YOU OR ANY THIRD PARTY THAT ARISES IN CONNECTION WITH THE SERVICES (OR THE TERMINATION THEREOF FOR ANY REASON), EVEN IF MUSKBIRD.COM HAS BEEN ADVISED OF THE POSSIBILITY OF SUCH DAMAGES.
TO THE FULLEST EXTENT PERMITTED BY APPLICABLE LAW, MUSKBIRD.COM IS NOT RESPONSIBLE OR LIABLE WHATSOEVER IN ANY MANNER FOR ANY CONTENT POSTED ON OR AVAILABLE THROUGH THE SERVICES (INCLUDING CLAIMS OF INFRINGEMENT RELATING TO THAT CONTENT), FOR YOUR USE OF THE SERVICES, OR FOR THE CONDUCT OF THIRD PARTIES ON OR THROUGH THE SERVICES.
Certain jurisdictions do not permit the exclusion of certain warranties or limitation of liability for incidental or consequential damages, which means that some of the above limitations may not apply to you. IN THESE JURISDICTIONS, THE FOREGOING EXCLUSIONS AND LIMITATIONS WILL BE ENFORCED TO THE GREATEST EXTENT PERMITTED BY APPLICABLE LAW.
11. INDEMNIFICATION
To the extent authorized by law, you agree to indemnify and hold harmless Muskbird.com, its employees, officers, directors, affiliates, and agents from and against any and all claims, losses, expenses, damages, and costs, including reasonable attorneys fees, resulting directly or indirectly from or arising out of (a) your violation of the Terms, (b) your use of any of the Services, and/or © the Content you make available on any of the Services, (c) related to any Products purchased through our Website or Services
12. PRIVACY POLICY
Muskbird.com is committed to responsibly handling the information and data we collect through our Services in compliance with our Privacy Policy, which is incorporated by reference into these Master Terms. Please review the Privacy Policy Page on Muskbird.com so you are aware of how we collect and use your personal information.
13. TRADEMARK POLICY
MUSKBIRD.COM's name, logos, icons, and other trademarks may only be used in accordance with our Trademark Policy, which is incorporated by reference into these Master Terms. Please review the Trademark Policy so you understand how MUSKBIRD.COM's trademarks may be used.
14. COPYRIGHT COMPLAINTS
Muskbird.com respects copyright laws, and we prohibit users of the Services from submitting, uploading, posting, or otherwise transmitting any Content on the Services that violates another person's proprietary rights.
To report allegedly infringing Content hosted on a website owned or controlled by MUSKBIRD.COM, send a Notice of Infringing Materials as set out in MUSKBIRD.COM's Copyright Infringement and Digital Millennium Copyright Act ("DMCA") Notice & Takedown Procedure section in this document
15. TERMINATION
By Muskbird.com: Muskbird.com may modify, suspend, or terminate the operation of, or access to, all or any portion of the Services at any time for any reason. Additionally, your individual access to, and use of, the Services may be terminated by Muskbird.com at any time and for any reason.
Order Processing and Cancellation: Muskbird.com may cancel or void your order including associated order payment transactions, any time for any reason or no reason. In the situation, where we have charged any payments for such orders, to be canceled, Muskbird.com will issue a refund as stated within our shipping and returns policy
By you: If you wish to terminate this agreement, you may immediately stop accessing or using the Services at any time.
Automatic upon breach: Your right to access and use the Services (including use of your CCID account) terminates automatically upon your breach of any of the Terms. For the avoidance of doubt, termination of the Terms does not require you to remove or delete any reference to previously applied CC legal tools from your own Content.
Survival: The disclaimer of warranties, the limitation of liability, and the jurisdiction and applicable law provisions will survive any termination. The license grants applicable to Your Content are not impacted by the termination of the Terms and shall continue in effect subject to the terms of the applicable license. Your warranties and indemnification obligations will survive for one year after termination.
16. MISCELLANEOUS TERMS
Choice of Law and Jurisdiction
To the maximum extent permitted by law, this Agreement shall be construed in accordance with the laws of Ontario and Canada, as applicable therein, without regard to any conflict of law provisions. Any dispute arising under this Agreement shall be resolved exclusively by the Superior Court of Justice or Federal Court of Canada residing in Toronto, Ontario.
Dispute Resolution
Except to the extent prohibited by applicable law, in the event of any controversy, claim, action, or dispute arising out of or related to any transaction conducted on the Sites, or the breach, enforcement, interpretation, or validity of this Agreement or any part of it ("Dispute"), the party asserting the Dispute shall first try in good faith to settle such Dispute by providing written notice to the other party (by first-class or registered mail) describing the facts and circumstances (including any relevant documentation) of the Dispute and allowing the receiving party 30 days in which to respond to or settle the Dispute.
Notice shall be sent
(1) To Muskbird.com at: 10 NANCY COURT | MAPLE | ON | L6A 4B2 | CANADA
(2) To you at your last-used billing address or the billing and/or shipping address in your online profile.
To the maximum extent permitted by law, both you and Muskbird.com agree that this dispute resolution procedure is a condition precedent that must be satisfied prior to initiating any litigation or filing any claim against the other party.
No waiver: Either party's failure to insist on or enforce strict performance of any of the Terms will not be construed as a waiver of any provision or right.
Severability: If any part of the Terms is held to be invalid or unenforceable by any law or regulation or final determination of a competent court or tribunal, that provision will be deemed severable and will not affect the validity and enforceability of the remaining provisions.
No agency relationship: The parties agree that no joint venture, partnership, employment, or agency relationship exists between you and Muskbird.com as a result of the Terms or from your use of any of the Services.
Integration: These Master Terms and any applicable Additional Terms constitute the entire agreement between you and Muskbird.com relating to this subject matter and supersede any and all prior communications and/or agreements between you and Muskbird.com relating to access and use of the Services.
17. COPYRIGHT INFRINGEMENT AND DMCA NOTICE & TAKEDOWN PROCEDURE
Muskbird.com respects the intellectual property of others. The information posted by Muskbird.com is subject to the Copyright Act of Canada. It is the policy of Muskbird.com to investigate and respond to claims of intellectual property infringement
If you believe that your copyrighted work has been copied in a way that constitutes copyright infringement and is accessible on this site, you may notify our copyright agent, as set forth in the Digital Millennium Copyright Act of 1998 (DMCA). For your complaint to be valid under the DMCA, you must provide the following information when providing notice of the claimed copyright infringement:
As part of our response, we may remove or disable access to material residing on a site that is controlled or operated by Muskbird.com (such as Muskbird.com) that is claimed to be infringing, in which case we will make a good-faith attempt to contact the person who submitted the affected material so that they may make a counter-notification, also in accordance with the DMCA.
Muskbird.com does not control content hosted on third-party websites, and cannot remove content from sites it does not own or control. If you are the copyright owner of content hosted on a third-party site, and you have not authorized the use of your content, please contact the administrator of that website directly to have the content removed.
Notice of Infringing Material
To file a notice of infringing material on a site owned or controlled by Muskbird.com (such as Muskbird.com), please provide a notification containing the following details:
Reasonably sufficient details to enable us to identify the work claimed to be infringed or, if multiple works are claimed to be infringed, a representative list of such works (for example- title, author, any registration or tracking number, URL);
Reasonably sufficient detail to enable us to identify and locate the material that is claimed to be infringing (for example a link to the page that contains the material);
Your contact information so that we can contact you (for example, your address, telephone number, email address);
A statement that you have a good faith belief that the use of the material identified in (2) is not authorized by the copyright owner, its agent, or the law;
A statement, under penalty of perjury, that the information in the notification is accurate and that you are authorized to act on behalf of the owner of the exclusive right that is alleged to be infringed.
Your physical or electronic signature.
Then send this notice to:
By Mail:
DMCA Agent: Muskbird.com
10 NANCY COURT | MAPLE | ON | L6A 4B2 | CANADA
By Email:
Email: [email protected]
Payment Policy
From time to time, Muskbird.com may change its available payment options depending on products and pricing.
Muskbird.com supports popular payment options such as – Paypal, Major Credit Cards including Visa, MasterCard, Amex, and Discover. Alongside, we also offer additional payment options such as Interac e-transfer and by Cheque payment.
Please note that Paypal and Credit Cards payment options may not be available for certain products such as Gift Cards and depending on the order type and amount. This is due to the higher possibilities of fraud related to credit card transactions.
In addition, for certain products such as mobile top-up and gift cards, we may charge additional processing fees if you choose to pay by credit cards or the PayPal option. The processing fee is required for us to thoroughly review and conduct enhanced security fraud checks. These checks are not required to the same extent for other payment types such as cheques or Interac Debit cards and hence they do not incur any processing fees. Cheque and Interac Debit card payment options are available to customers should they wish to use and avoid processing fees.
If you wish to request these payment options for ordering gift cards (PayPal and credit cards), please email us with your order detail and attach documents to verify your identities such as driver's license copy or utility bills. For certain order types and/or quantities, we may require applying additional processing fees for accepting PayPal or credit cards.
Payment Pre-authorization and Capture Policy
Muskbird.com uses 2 step process for payments made through credit cards or Payal: pre-authorization and capture
Pre-authorization is a safer and cleaner practice for online payment processing for both consumers and merchants. When you place an order on our website, your funds may be kept on temporary hold by your bank as part of a pre-authorization request from us for this order. If your order is canceled by either you or us and we took a pre-authorization on your payment, then you may not access these funds until the pre-authorization period expires, and that you may see a transaction charge on your statement. Please note that this charge is like a pending transaction for pre-authorization status and until we capture the funds you are not actually being charged at all but rather it is a temporary hold on your funds from your bank. By placing an order on our site you give us consent to obtain a pre-authorization from your bank for the order and that you also acknowledge that you will not be able to use such funds as indicated on the order during the active pre-authorization period even if your order gets canceled. Your funds will be released back to you automatically once the pre-authorization period expires by your bank in an event of order cancellation.
For more information on the pre-authorization, please refer to our FAQ section
Pre-authorization for Credit Card Ownership Verification
Muskbird.com takes online security very seriously. To combat growing online credit card frauds, we may request to obtain a small test pre-authorization amount on your credit card during the check-out or order submission process. This amount is usually very small (less than $1) and you do not get an actual charge for this amount, as it is only for verifying the credit card ownership. As part of the verification process, you will be asked to input the correct amount of test pre-authorized amount during order submission. This allows us to verify credit card ownership and prevent misuse of the credit card transaction on our site. The pre-authorized test amount will expire on its own within 10-14 business days as per your bank policy and you may see this amount on your statement (usually defined under pending transactions) as per the pre-authorization process described above. By placing an order on our site, you agree and allow us to obtain required verification, pre-authorization, and placing of the test amount on your credit card. Should you not wish to go through the verification process for your credit card ownership, you can simply choose to not place any orders on our website using the credit card payment option.